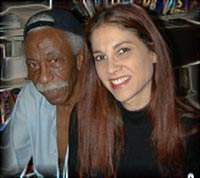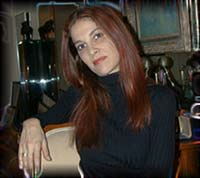 Gordon Parks' poetry, photography, films, music, and books always impressed me as the works of a man who must have remarkable vision. One never knows what life will bring. Surely the sequence of events that crossed my path with Gordon's path could never have been predicted.
The journey started with the fall 1999 issue of Manhattan Magazine. Rick Bard had written an article on Gordon and an article on me. After reading the editorials, Stephanie Parker, knowing both of us, mentioned to me that she was in contact with Gordon. It seemed like an opportunity to relay how much I revered his various endeavors. Stephanie was generous with his address and I dashed off a note to him. In the letter was a reference to the magazine in which we shared ink, how important and enlightening I thought his work was, etc. Gordon read the Rick Bard article on me and responded in kind. After several wonderful phone conversations with this charming & spirited man, we scheduled to meet face to face.
Our rendezvous was on November 28th, a Sunday that was part of the long Thanksgiving weekend. New York City catches the festive spirit in earnest at this time of the year marking the beginning of the holiday season. It usually is a time for all kinds of adventures to emerge and my holiday season seemed to be starting off right.
That afternoon Gordon shared with me images he had shot and poetry he had written. They were for an art book he was working on called "A Star For Noon", his homage to women. I listened to Gordon's voice, with his soul flowing through his words, as he spoke. Taking tender time to show me each photograph revealing the story of a man who fell in love, lost his love, and found it again unfolded.
Gordon than went to his sound system and turned on the music he was composing for a CD that was going to be in the back of the book. As a matter of fact, I am listening to it right now. Again my ears received his words as the notes of emotion filled the room. This was one special project! It was nearly completed but Gordon still needed a photo to two.
WOW! Gordon Parks asked me if I would be a part of "A Star For Noon; An Homage To Women In Images, Poetry, and Music." It took less than a second to get me to reply, "sure". I was already seduced and euphoric about the work. Stephanie Parker had several photographs being published. It made my participation even more personal.
The friendship began there and continued on. Gordon is a fine cook and I loved going over to visit and to eat some of his delicious food. I cherish our talks. His understanding, his voice of reason, his quiet genius, are the subtle nuances that slowly emerge as I get to understand this renaissance man a bit better. I absorbed in awe at the understated wisdom in the everyday comings and goings Gordon talks about. I can listen for hours at the tales of being the 15th child to parents who instilled the proper values, of losing his mother when he was a young boy and the route and detours his life has taken. Telling an interesting story is an art in itself that very few can do well. The story tellers are of a generation that went when the industrial revolution arrived. Technology changed the way we communicate.
The photographs at the top of the page are from that same November afternoon when Gordon ended the day by shooting the images of me for "A Star For Noon; An Homage To Women In Images, Poetry, and Music." The one on the right is Gordon's first attempt to go digital with my Nikon CoolPix. Wish I could get the camera to deliver such results. Below is the cover of the book and the inside page that Gordon wrote some kind words on.
You can get "A Star For Noon" at Barnes & Nobel or on amazon.com where it has a five star rating. It is truly a special piece of work. Be sure to listen to the CD when you read the poetry and take in the images. I cherish my memories of Gordon and feel so blessed he came into my life and enriched it with all his loveliness.