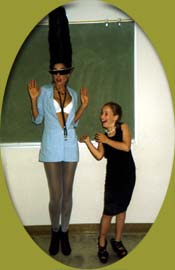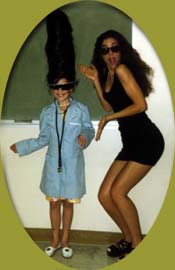 This is the tale of how Lilly Hayes Kaufman tromatized into the Young Professor Holt...
It was a tromapical Los Angeles morning on the set of "Class Of Nuke'Em High II". Mayhem gone amok from the sugar rush of tromalicious donuts and toxicant coffee. Eric Louzil, the director, was going over the day's tromaology with the cast & crew. LLoyd Kaufman, Troma Founder and Mayor of Tromaville, was to bring his tromatism to set that day. What a tromulous suprise when he also brought his first born tromite Lilly Hayes.
There were not that many New York toxiods on this West Coast Tromaville set. I was the only one who knew Lilly from before. As Lloyd shot second unit, Lilly & I started goofing off in one of the classrooms. The toxicity got to us and we put the Professor Holt outfit on her. Lilly Hayes was so toxigenic and we were having such a toxicosis time that we ran to show Lloyd how clever we were. LLoyd took one look at his tromable daughter and told us to go to the first unit and shoot "something".
So we did and Lilly Hayes Kaufman tromatized into Young Professor Holt. Another toxin day on a Troma set.