This recipe never gets old, never gets tired. A treat for every day of the week!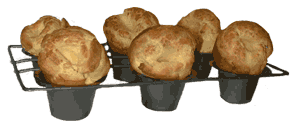 Preheat oven to 375 degrees.
Warm muffin rack in the oven.
With a fork:
• Beat together 4
EGGS


• Blend in 1 cup

MILK


• Slowly add 1 cup

FLOUR

with 1/2 teaspoon

SALT

.

Use fork to achieve smooth consistency.
BUTTER

the hot muffin cups and fill them evenly with batter.
Bake for 35 minutes WITHOUT opening the oven door.
Serve immediately with more butter, marmalade, jams, etc...