Food from the goddess. This amazing paste can be used on pasta, rice, bread, in soups... let your imagination run wild! Try it on a cracker.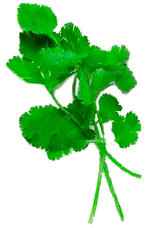 Remove the leaves off a bunch of
CILANTRO


Put the leaves into a blender
Add:
OLIVE OIL
GRATED CHEESE,
PINE NUTS or WALNUTS or HEMP SEEDS,
FRESH GARLIC,
SEA SALT & PEPPER to taste.
Blend until a paste forms. You're done!!!!

CILANTRO is the leaves & stem of the corriander plant and is a member of the carrot family. It helps stimulate digestion, has an amazingly high amount of vitamin A and lutein (good for the eyes) and is a known aphrodisiac

.
What to do with the rest of the CILANTRO: