There is nothing more wonderful than making these on a weekend afternoon. They have been such a hit that I have a waiting list of people who want to be invited back for more. Experiment with different squashes.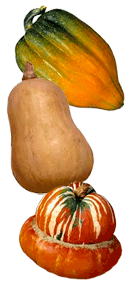 Sift together DRY ingredients:
• 1 cup
FLOUR


• 1 teaspoon

BAKING POWDER


• 1/2 teaspoon

SALT


• Season to taste with ground

CINNAMON, NUTMEG, CLOVES
In another bowl beat together WET ingredients:
• 2 cups fresh
SQUASH PUREE

(cut, remove seeds, steam squash then throw in blender)
• Dash of

VANILLA EXTRACT


• 1

EGG
Add DRY ingredients to WET ingredients forming a smooth batter.
Spoon it onto a griddle like your average pancake.
Cook until golden brown on both sides.
Load them down with
BUTTER & MAPLE SYRUP

and pig out.