I don't know what it is about this salad that earned it the title of diva,
but it's certainly eaten all summer long in my home. You need
not be a diva to induldge.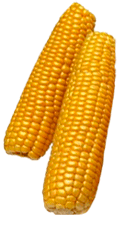 • Prepare 3/4 cup of
BULGAR

by pouring 3/4 cup of hot water on it, set aside.
• Take the

CORN

off of 4-5 ears and sauté in

OLIVE OIL

with

ONION, SEA SALT & PEPPER (red or black)

until tender and sweet.
• Mix the bulgur and corn mixture together and let it cool to room temperature.
• Add the juice of a

LEMON

and/or

LIME

along with some fresh

CILANTRO

.
• Gently stir the salad.
Serve now or refrigerate for later.