Gravlox is easy to make and a lot cheaper than buying it. Throw some on top of a toasted bagel with cream cheese, add sliced tomato, and you have a sandwhich worth the calories.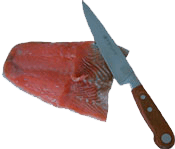 • 2 lbs. piece of
SALMON


• 1/4 cup

SEA SALT


• 1/4 cup

SUGAR


•

FRESH DILL

, chopped
The key is to start with very fresh fish and to clear it of all bones. I took a 2 pound piece of salmon, sliced it in half and took out the bones.
In a bowl blend the sugar and sea salt. Spread the mixture evenly on the flesh of both halves of the salmon. Top it off with the dill and carefully put the fish back together.
Wrap the salmon tightly in plastic wrap and put it in a shallow dish (it will leak fluid). Weigh the fish with whatever you have. I used a dog bank filled with heavy coins sitting on top of a lock inside a pyrex bread pan. After 24 hours turn the fish over and after another 24 hours take it out and wash it off. You now have Gravlox.
Slice it as thin as you can and serve it will pumpernickel bread, sour cream, chives, capers, & mustard. It will be the first thing to go.